Glass Flower Background
The background image is 150 X 150 pixels in height /width and 7195 bytes in size.
The glass background was saved in the jpeg format. To save the background for personal use simply select or right click the image and choose "save".
Return To Main Background or Home.
If you use our free flower background please give us credit. Thank you.
<p><a href="https://www.wilsoninfo.com">
Wilsoninfo Free Backgrounds - Clipart</a></p>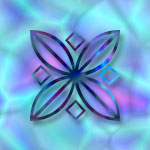 Glass flower on a stained glass design.
Glass flower on a blue seamless design for use on websites or as a wallpaper.
blue flower