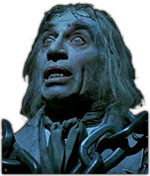 Jacob Marley
Mankind was my business! Their common welfare was my business!

Are there no prisons? Are there no workhouses? Don't be a scrooge the next time you see a bell ringer. JPEG file.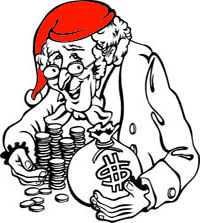 Ebenezer Scrooge keeping a tight grip on his money.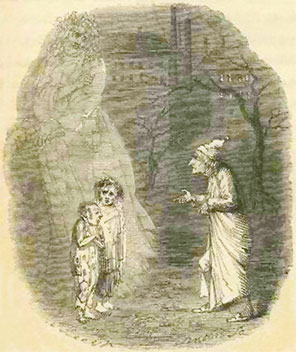 Ebenezer Scrooge being scared with Ignorance and Want.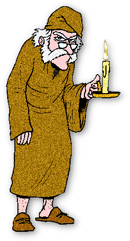 Ebenezer in his night shirt with an animated candle in his hand. GIF file.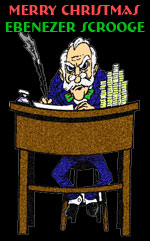 Merry Christmas Ebenezer Scrooge! Feel another Bah Humbug coming? Wish we all had a little of that gold these days. JPG file.

Ebenezer Scrooge on the move. Even when he is walking he looks grumpy.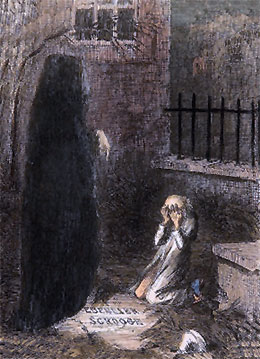 Ebenezer and The Ghost of Christmas Yet To Come.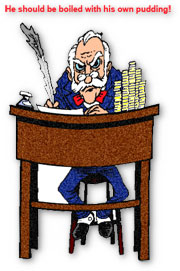 "If I could work my will, every idiot who goes about with a "Merry Christmas" on his lips should be boiled in his own pudding and buried with a stake of holly through his heart." Nice Guy. JPEG file format.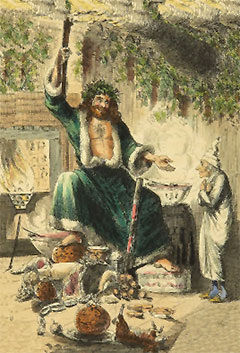 Scrooge and The Ghost of Christmas present.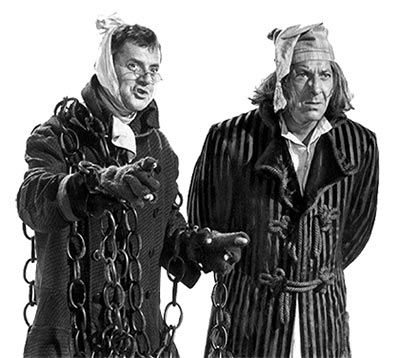 Ebenezer Scrooge and Marley's ghost. Actually it's Tony Randall playing Marley's ghost and Jack Klugman playing Scrooge. Our research shows this to be a public domain image without copyright. However, if you plan to use this image for any other reason than personal we strongly suggest you do your own copyright research first. In spite of our research, we find it hard to believe someone doesn't maintain the right to Randall and Klugman's likeness.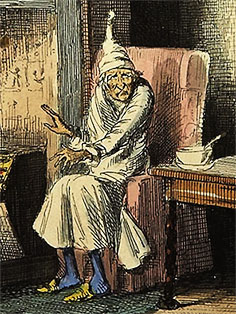 Ebenezer Scrooge sitting by a "not so hot fire" about to be surprised my Marley.
(Public Domain Illustration by John Leech - 1843)


This is the Ebenezer Scrooge of snowmen, very grumpy.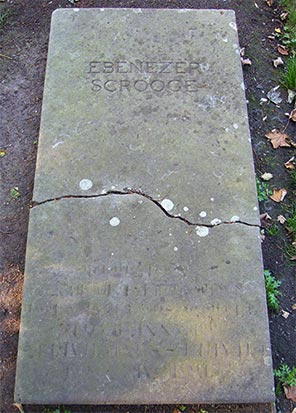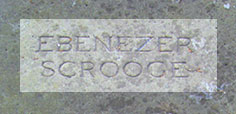 The grave of Ebenezer Scrooge in Shrewsbury.
The grave was created for the 1984 movie " A Christmas Carol". It is still there today.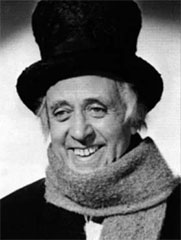 Alastair Sim as Ebenezer Scrooge - 1951.


Scrooge receives a Christmas gift animation.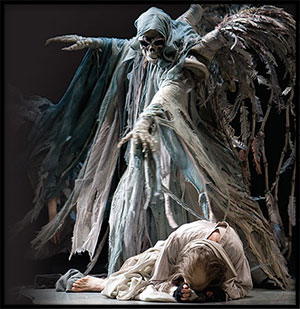 Ebenezer Scrooge learning an important lesson from The Ghost Of Christmas Yet To Come.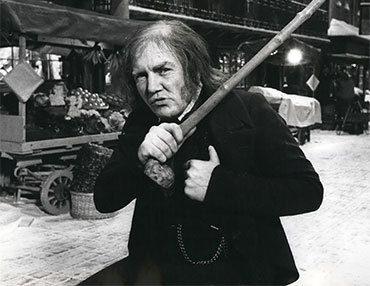 Albert Finney as Ebenezer Scrooge.
A reminder: This image is for personal use only, not business.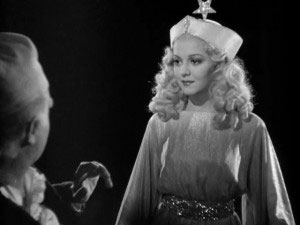 This is a movie still of Ann Rutherford playing The Spirit of Christmas Past from the 1938 movie "A Christmas Carol". She has always been my favorite Ghost of Christmas Past (yes, I'm a guy) so I wanted to include her on this page. Keep in mind this image is under 100 years old so her surviving family most likely owns the rights to her image and possibly also Metro-Goldwyn-Mayer (MGM) studios. If you save the image use it only for personal reasons or as described by "the fair use doctrine".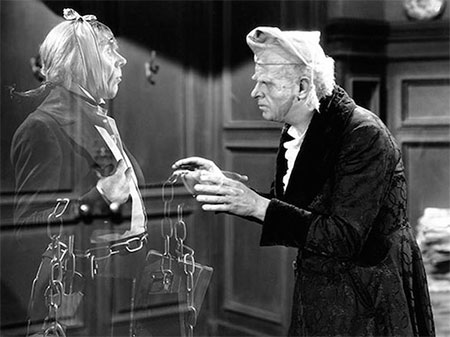 A movie still of Ebenezer Scrooge and Jacob Marley from the 1938 "A Christmas Carol". Just like the Ann Rutherford image above, use this image only for personal reasons.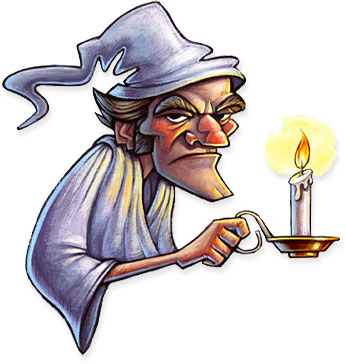 Ebenezer Scrooge holding candle and looking a bit grumpy.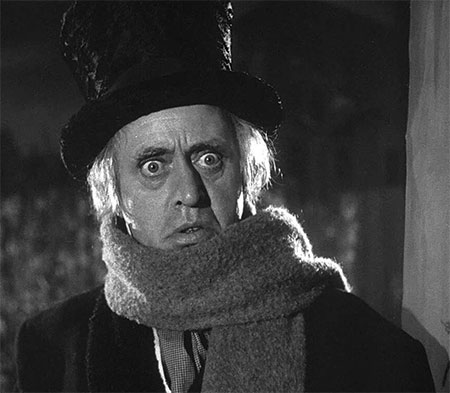 A big surprise for Ebenezer Scrooge. This is Alastair Sim playing Scrooge in the 1951 version of A Christmas Carol.
Alastair Sim' likeness is for personal use only.

George C. Scott as Ebenezer Scrooge in the movie "A Christmas Carol" in 1984.
This image is for personal use only.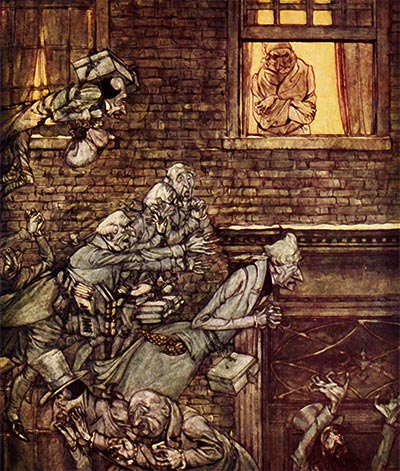 Ebenezer Scrooge beginning to learn what he has to look forward to in his future.

Ebenezer Scrooge walking bent over using his cane but keeping a very tight grip on his money.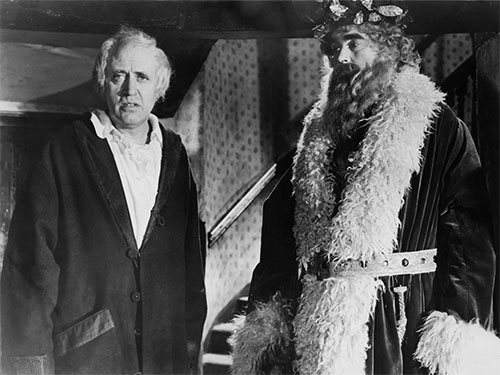 Scrooge and the ghost of Christmas present.
Note: This is a movie still from the 1951 movie "Scrooge" based on "A Christmas Carol". Use this image only on personal web pages or for personal reasons.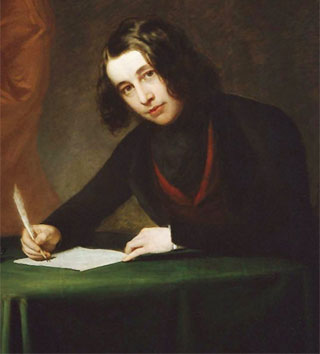 Charles Dickens

- 1842 - Francis Alexander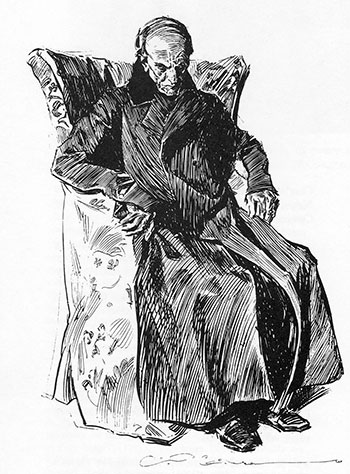 Ebenezer Scrooge seated - Illustration by Charles Dana Gibson (September 14, 1867 – December 23, 1944).